Loft Blog
Monday, 08 December 2014 00:00
If you're looking for your next dystopian fix, look no further than Shatter Me by Tahereh Mafi. Set in a future where the government closely controls its citizens' lives and some people have developed super-human abilities, the book focuses on Juliette Ferrars, a 17 year old whose touch kills. Her last year has been spent alone in a cell after she accidentally killed someone through contact. Her time in solitary has fractured her psyche and confidence, and she is slowly losing her mind until she is released into the care of Warner, a government leader who wants to use Juliette's power as a weapon.
Mafi illustrates Juliette's psychological trauma by writing her inner thoughts in fragments and strike-throughs. The writing style takes a little time to get used to, but helps the reader get into Juliette's head and understand her experiences. However, the story really shines with its secondary characters. Kenji (a wisecracking soldier with a secret), Adam (Juliette's childhood friend), and Warner (the leader obsessed with her) are well-drawn and instantly memorable. The government, called the Reestablishment, is sufficiently menacing, and the super-human powers that we witness in the book are incredibly cool.
Shatter Me is part of a trilogy, and is the rare series that gets better with each book. Rest assured that if you like Shatter Me, you will absolutely love what's to come!
McKenna, The Loft
Monday, 01 December 2014 00:00
Jam Gallahue lost the love of her life after only 41 amazing days together. She hasn't been able to move past it, she continually dwells on each perfect moment with Reeve. Finally, her parents decide to send her to a special school, The Wooden Barn, that is especially for students who are working through some type of trauma. Jam is not thrilled to be at this new school, but after being selected for a special English class she begins to change her mind.
A group of five students were selected for Special Topics English and this semester they're all going to read and journal about The Bell Jar by Sylvia Plath. At first Jam is reluctant to write in her journal, but when she finally takes pen to paper she finds herself transported to a place where she can still be with Reeve. Jam and her classmates all experience this bizarre phenomenon, but know at some point it will end. Not only do her classmates need to confront their pasts, but Jam must confront the truth too. Belzhar is a great realistic fiction story, with a slight paranormal twist, a great foray into YA by Meg Wolitzer.
(Renee, the Loft)

Sunday, 30 November 2014 13:39
10-year-old Auggie has a facial deformity, and it colors all of his experiences. When he starts att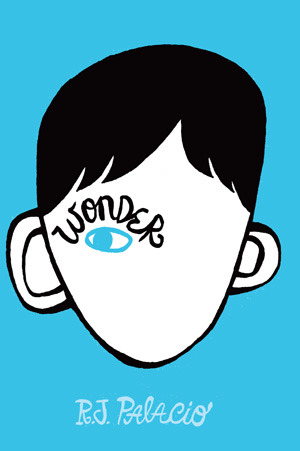 ending a new school in 5th grade, he has to bravely make new friends despite bullying and prejudice. he is constantly inspired by the daily quotes and precepts from his English teacher, Mr. Browne, which are featured throughout the novel.

Although Wonder tells Auggie's story of overcoming adversity, the point of view frequently shifts to different characters in Auggie's world to help fill in the narrative. Palacio does an excellent job of cultivating empathy for all of these narrators who each have their own struggles and insecurities with or without a physical limitation, such as his sister Olivia or his friend Summer.
Wonder can be read in one sitting for it is so engaging and fast-moving. I read it straight through, and definitely cried at the end. I recommend this book for readers of all ages. It's an excellent exercise in empathy and optimism.
Kayla, The Loft
Saturday, 15 November 2014 00:00
Get your gears turning with these steampunk titles. Check out the Loft's STEAMPUNK book display for more suggestions.
The Invention of Hugo Cabret by Brian Selznick
Twelve-year-old orphan Hugo lives in the walls of a Paris train station, repairing clocks and stealing to survive. When he meets a crotchety toyseller and his quirky goddaughter, Hugo's quiet existence within the walls is threatened.
The Invention of Hugo Cabret won the 2008 Caldecott Medal, the first novel to ever win this picture book award. Author Selznick says the book is "not exactly a novel, not quite a picture book, not really a graphic novel, or a flip book or a movie, but a combination of all these things." Martin Scorsese directed the Academy Award-winning film adaptation Hugo in 2011, starring Asa Butterfield as Hugo.
Boneshaker by Cherie Priest
Priest's alternate version of Seattle was destroyed during the Civil War by the Incredible Bone-Shaking Drill Engine, or Boneshaker, which also releases poisonous blight gas that kills and zombifies those it infects. Scott Westerfeld calls Boneshaker, "A steampunk-zombie-airship adventure of rollicking pace and sweeping proportions, full of wonderfully gnarly details. This book is made of irresistible." What else could you possibly need to know?
Incarceron by Catherine Fisher
Futuristic prison Incarceron houses the descendants of its original prisoners, forever punished for their ancestors' crimes. Young Finn was born in the brutal machine-run prison and has never left its walls. Outside, the prison warden's daughter Claudia faces her own life sentence--an arranged marriage. Their lives intercept when they each find a crystal key that allows them to communicate with each other. Together, they hatch a plan that will free them both.
Monday, 10 November 2014 00:00
Jellicoe Road is one of those books that I come back to over and over again. The language is beautiful, but the story is what draws me in every time. Taylor Markham has attended the Jellicoe School, a boarding school outside the fictional town of Jellicoe in Australia, since her mother abandoned her at a 7-Eleven when she was a child. Now 17, Taylor has to deal with an interschool "territory war" with the local military and town academies while maintaining friendships and figuring out the transition into adulthood. Underlying all of this, however, are the memories of her traumatic past and the story of four other young people living on the Jellicoe Road years ago.
A word of caution: the first 100 or so pages of Jellicoe Road can be a tough read--Marchetta sets up a lot of moving pieces, and it can be tough to see how they all relate. But when everything finally comes together, it's incredibly moving. I immediately wanted to go back and start from the beginning, just to see how she did it (after I stopped sniffling, that is). Taylor Markham is an excellent protagonist, just frustrating enough to make her feel real, and everyone around her is just as engaging. And the Jellicoe Road itself feels like a character, with descriptions that are just begging for a movie (which is in development!). If you like gripping realistic fiction (with a touch of magical realism), give this one a try.
McKenna, The Loft
Wednesday, 05 November 2014 14:31
In my opinion, a graphic novel is the best kind of book for capturing a memoir of youth. So many of my early memories are tied heavily to images, for the intensity of my feelings far exceeded the abilities of my childhood vocabulary. For this reason, among others, I loved Craig Thompson's Blankets. It is a moving, illustrated tale of the author's coming of age in rural Wisconsin.
Blankets begins with Craig's childhood, where he slept in the same bed as his younger brother Phillip. Craig feels isolated from his peers, and he hates his life. He finds solace at Bible school when he is promised that heaven is a place without suffering. This prompts Craig to become a very devout Christian as he blossoms into a teenager. However, he begins to doubt his faith when he is told that making art is not a valid way of celebrating his spirituality. He becomes more demoralized when even the kids at church camp reject and bully him.
While at camp, Craig meets Raina, and the pair bonds instantly. Although their affair stays chaste, the relationship is rife with romance. They continue their correspondence long-distance after camp ends through letters and drawings. When Craig goes to visit Raina at her home, their time together is a catalyst that inspires Craig to reflect on what he thought he knew about spirituality, relationships, and his aching desire to feel wanted and to belong.
Although the romance is the central focus of this story, I found the portions about Craig's relationship with his brother, his conflicted feelings about making art, and his hunger for comfort through religion especially powerful. I could relate deeply to Craig's shame and fear, and I celebrated his journey to overcome, accept and understand these difficult feelings.
Don't be overwhelmed by the textbook proportions of Blankets. The black and white cartoon images are large, and often one panel will take up a full page to better showcase the intricate detail of the images. Although the book tops out at 582 pages, it's a quick and engaging read. It is heartfelt and moving as it tenderly expresses the vulnerabilities of falling in love and aching for something or someone outside of yourself to make you feel whole. I highly recommend this book.
- Kayla, Loft Staff
Monday, 03 November 2014 00:00
At 13 Jude and Noah, twins, looked out for each other in spite of their differences. Jude was honing her skills picking up guys and being popular, while Noah kept to himself sketching constantly until a new neighbor showed up. Both Jude and Noah were applying to the local arts high school because their mother thinks it would be the best school for them. Noah was all about it, his skill for the arts in undeniable, but Jude's wasn't so keen on the idea and she saw her mother's favoritism of Noah.
Flash forward three years. Jude is the only twin enrolled in the arts school. She's completely changed her appearance and sworn off boys. Noah on the other hand suddenly has bunches of friends and hasn't made a single sketch in three years. The twins barely acknowledge each other. What tore them apart and changed their lives so drastically? A new art project, new teacher and new friend start to send Jude in a trajectory towards repairing things with Noah, but is it too late? I'll Give You the Sun is a wonderfully written book, with engaging, relatable characters and some great plot twists.
(Renee, the Loft)
<< Start < Prev 1 2 3 4 5 6

7

8 9 10 Next > End >>


Page 7 of 86