Loft Blog
Wednesday, 18 June 2014 11:52
This week Maker Corps finally got off the ground! Ruth and I spent all of last week planning out programs and getting more acquainted with the FUSE challenges, and on Monday we were ready to pack up and set up shop in the Chicago Avenue-Main Street branch for our first Teen DIY of the summer: jewelry making!
For jewelry making, we always try to encourage kids to make whatever they want, but we did have a few projects prepared. The first was a cuff bracelet made out of recycled plastic bottles and modge podge. Ruth and I struggled a lot with this project, so it was exciting to be able to show off the cuffs we made after all the troubleshooting was over. We also had instructions for bird nest pendants made out of wire and beads and wire words that you could use to spell out your name or a word that has some sort of meaning for you.
The wire words were by far the most popular option. Of the teens who came, two of them spent almost the entire hour spelling out their names and the names of their friends to give as gifts. They also really liked the bird nests and enjoyed just experimenting with everything in our jewelry box to make everything from earrings to pendulums to key chains. No one made cuffs, which was a little disappointing, because they were my favorite project, but hopefully someone will give them a try when we do this program again in the Loft next week on Wednesday from 4-5!

On Tuesday, we came back to the Chicago Ave-Main Street Branch to do another program with paper airplanes and origami. This was a much busier program, because there was no sign up required and no age limit. Anyone was welcome to come, so we had everybody from toddlers to adult babysitters making paper star, boxes, owls and airplanes! One of the things I really appreciated about this program was that several boys who were apprehensive about origami at first really got into the paper airplanes, and after they made all the planes, they were much more open to trying new things. It was awesome seeing them expand their skills! Because there were so many different ages, the kids also had a lot of fun helping each other. One girl became our flower expert and spent over an hour teaching others how to make them so Ruth and I could focus our energy on helping newcomers. There was so much excitement and teamwork in this program. All of the kids were sad to leave, and many parents asked Ruth and I when it would be happening again, so in honor of the National Day of Making on June 18th, we decided to hold a quick pop up repeat of the program in the lobby of the Main Branch. Having such a successful couple of programs was a great start to the summer, and I can't wait to kick off next week with felties in the Loft on Monday!
(Grace, Maker Corps Intern)

Monday, 16 June 2014 20:21
This travel journal-as-graphic-novel chronicles a two month trip made by Craig Thompson, author of the heart-obliterating illustrated novel masterwork, Blankets, to Paris, Switzerland, and Morocco to attend book signings, give interviews, and promote his work. On his trip he is seized with illnesses, fatigue, severe hand pain, and loneliness and he captures all of these conditions with the most stunning, detailed, exquisitely rendered drawings. The section in which he visits Morocco is particularly impressive - his drawings give you a real sense of the crowded, intense melee occurring on every street. There's a good story with some humor here, as well as drama, heartbreak and longing, and Thompson's voice is compelling as it gives you some insight into his life and work. And what work it is - you'll find yourself staring for a long time at a lot of these drawings. (Jarrett, The Loft)
Friday, 13 June 2014 00:00
The Flame of Olympus by Kate O'Hearn
5/5 stars
A story about a girl named Emily with a fire core. Emily does not know that Olympus is at war but she gets a weird feeling when Pegasus lands on her roof.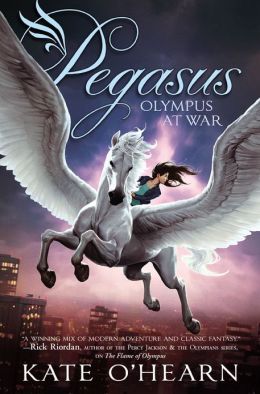 Olympus at War by Kate O'Hearn
5/5 stars
A funny/sad story about Olympus being attacked again by the same creatures. But this time the monsters are NOT acting on their own, they are doing someone else's bidding.
(Phoebe C., Evanston teen)
Monday, 09 June 2014 00:00
"Of the first few hauntings I investigated with Lockwood & Co. I intend to saw little in part to protect the identity of the victims, in part because of the gruesome nature of the incidents, but mainly because, in variety of ingenious ways, we succeeded in messing them all up."
The opening line of The Screaming Staircase really captures the tone of the book; a delightful mix of creepy, goosebump provoking suspense , a dash of humor and a bit of curious world building. This tale happens in a world where there has been an outbreak of ghosts and hauntings and none of them seem to be nice, in fact they tend to be quite violent and deadly. Because of these events psychic investigation forces like Lockwood & Co have been created and only young people like Lucy, Lockwood and George have the abilities to take on the spirit world. The Screaming Staircase never has a dull moment as each case unfolds and the overarching mystery grows. A simple house haunting turns into to something far more sinister as the team picks up on more clues. There's action, a bit of gore, but also some wonderful character building as you find out about Lucy and Lockwood's past. What a thrilling start to a new series, by Jonathan Stroud. One of my favorite 2014 reads so far!
(Renee, the Loft)

Friday, 06 June 2014 00:00
5/5 stars
Partials is one of the best books ever!! If you like Sci-fi, dystopian, and page-turning suspense and action, this is the book for you!
(Sarah B., Evanston teen)
Lincoln's Grave Robbers by Steve Sheinkin
4/5 stars
This book is about people who were in the counterfeit money business. They wanted to get a prisoner out of jail, so they tried to take Lincoln's grave and also not get caught.
(Mateo C., Evanston teen)
Monday, 02 June 2014 00:00
What if they started filming a reality TV show at your school? That would be pretty awesome- right? What if it wasn't so awesome? What if everything started to revolve around the show and all the things that made your school cool and unique were disappearing?
Ethan and his friends attend Selwyn Academy, a school for teens that are focused on the arts. Ethan had always enjoyed school and his friends until For Art's Sake took over. For Art's Sake is the new reality show, starring students from Selwyn. The teens compete against each other for a chance to win a huge scholarship to the arts college or university of their choice. Of course the show isn't pure reality, it seems to be scripted and edited down to what the network wants the public to see or believe. Not to mention that certain staff members seem to have some ties to the show creators. Ethan, Luke, Jackson and Elizabeth are determined to try and get the students and staff at school to wake up to all the damage the show has done. They decide to launch campaign against the show using poetry and just when it seems to be working things take a very unexpected turn. Friendships are on the edge and defeat seems to be a reality unless the group can figure an epic plan to turn things around and expose For Art's Sake for the scam that they believe it is.
(Renee, the Loft)
Friday, 30 May 2014 00:00
6/5 stars
Rival is an amazing book. It is realistic fiction about two girls who used to be friend but now are rivals. Their names are Brooke and Kathryn. Brooke is a Queen B and Kathryn is a "loner." Then they both get invited to the same singing competition. They both want to win the twenty five thousand dollars. Brooke wants it to go see her dad, but Kathryn needs it to pay for her collage tuition.

This story is told in both point of views. I would rate this book a 6 out of 5!
(Anne P., Evanston teen)
Smile by Raina Telgemeier
4/5 stars
Raina had to put up with braces, headgear, and nicknames from 6th grade to sophomore year. Surviving those years were tough, but she makes it, ending up with a great smile! :)
(Maya H., Evanston teen)
<< Start < Prev 1 2 3 4 5 6 7 8

9

10 Next > End >>


Page 9 of 80