Loft Blog
Friday, 13 June 2014 00:00
The Flame of Olympus by Kate O'Hearn
5/5 stars
A story about a girl named Emily with a fire core. Emily does not know that Olympus is at war but she gets a weird feeling when Pegasus lands on her roof.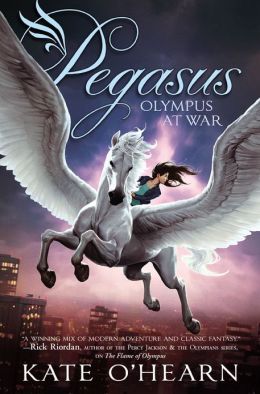 Olympus at War by Kate O'Hearn
5/5 stars
A funny/sad story about Olympus being attacked again by the same creatures. But this time the monsters are NOT acting on their own, they are doing someone else's bidding.
(Phoebe C., Evanston teen)
Monday, 09 June 2014 00:00
"Of the first few hauntings I investigated with Lockwood & Co. I intend to saw little in part to protect the identity of the victims, in part because of the gruesome nature of the incidents, but mainly because, in variety of ingenious ways, we succeeded in messing them all up."
The opening line of The Screaming Staircase really captures the tone of the book; a delightful mix of creepy, goosebump provoking suspense , a dash of humor and a bit of curious world building. This tale happens in a world where there has been an outbreak of ghosts and hauntings and none of them seem to be nice, in fact they tend to be quite violent and deadly. Because of these events psychic investigation forces like Lockwood & Co have been created and only young people like Lucy, Lockwood and George have the abilities to take on the spirit world. The Screaming Staircase never has a dull moment as each case unfolds and the overarching mystery grows. A simple house haunting turns into to something far more sinister as the team picks up on more clues. There's action, a bit of gore, but also some wonderful character building as you find out about Lucy and Lockwood's past. What a thrilling start to a new series, by Jonathan Stroud. One of my favorite 2014 reads so far!
(Renee, the Loft)

Friday, 06 June 2014 00:00
5/5 stars
Partials is one of the best books ever!! If you like Sci-fi, dystopian, and page-turning suspense and action, this is the book for you!
(Sarah B., Evanston teen)
Lincoln's Grave Robbers by Steve Sheinkin
4/5 stars
This book is about people who were in the counterfeit money business. They wanted to get a prisoner out of jail, so they tried to take Lincoln's grave and also not get caught.
(Mateo C., Evanston teen)
Monday, 02 June 2014 00:00
What if they started filming a reality TV show at your school? That would be pretty awesome- right? What if it wasn't so awesome? What if everything started to revolve around the show and all the things that made your school cool and unique were disappearing?
Ethan and his friends attend Selwyn Academy, a school for teens that are focused on the arts. Ethan had always enjoyed school and his friends until For Art's Sake took over. For Art's Sake is the new reality show, starring students from Selwyn. The teens compete against each other for a chance to win a huge scholarship to the arts college or university of their choice. Of course the show isn't pure reality, it seems to be scripted and edited down to what the network wants the public to see or believe. Not to mention that certain staff members seem to have some ties to the show creators. Ethan, Luke, Jackson and Elizabeth are determined to try and get the students and staff at school to wake up to all the damage the show has done. They decide to launch campaign against the show using poetry and just when it seems to be working things take a very unexpected turn. Friendships are on the edge and defeat seems to be a reality unless the group can figure an epic plan to turn things around and expose For Art's Sake for the scam that they believe it is.
(Renee, the Loft)
Friday, 30 May 2014 00:00
6/5 stars
Rival is an amazing book. It is realistic fiction about two girls who used to be friend but now are rivals. Their names are Brooke and Kathryn. Brooke is a Queen B and Kathryn is a "loner." Then they both get invited to the same singing competition. They both want to win the twenty five thousand dollars. Brooke wants it to go see her dad, but Kathryn needs it to pay for her collage tuition.

This story is told in both point of views. I would rate this book a 6 out of 5!
(Anne P., Evanston teen)
Smile by Raina Telgemeier
4/5 stars
Raina had to put up with braces, headgear, and nicknames from 6th grade to sophomore year. Surviving those years were tough, but she makes it, ending up with a great smile! :)
(Maya H., Evanston teen)
Monday, 26 May 2014 00:00
Samantha wakes up in the middle of the forest with no memory of her former life and no memory of the night she disappeared with her best friend, Cassie.
In her former life, Sam was the popular, had-it-all, mean girl with all the wealth and all the envy of her classmates. She had the dream boyfriend, the dream closet and did anything she had too—and said anything she had to—to get what she wanted. Cassie and Sam were a vicious duo that everyone knew better than to cross. So when Cassie disappears and Sam returns to school with no memory of what happened when they were together, people begin to question what really happened that night, including Sam herself. It doesn't help that everyone keeps saying that maybe it's better Cassie didn't come back at all.
With no memories and a new lease on life, Sam finds that having no recollection of her former lifestyle is a saving grace, allowing her a second chance at being a better sister, daughter and friend. But when strange flashes of memories begin to crop up in Sam's mind and mysterious events begin to happen to Sam, it becomes clear that someone wants the truth behind Cassie's disappearance kept a secret just as much as they want to make sure that Sam stays quiet.
Sam begins to spiral into a pit of self-denial and depression, second guessing her every thought and action. Maybe she really did hate her best friend and maybe she really is the one behind Cassie's disappearance.
When you can't rely on yourself for validation, whom else can you turn to when everyone else is putting the blame on you?
Don't Look Back is a suspenseful, thriller from page one, keeping you guessing right up until the very end at who killed Cassie—and though the revelation may surprise you, you'll find the answer was right in front of you the whole time.
(Ashley, the Loft)

Friday, 23 May 2014 00:00
A Cool Moonlight by Angela Johnson
3/5 stars
A Cool Moonlight is about a young girl who is allergic to sunlight and can't go outside during the day without lots of layers of clothes. I liked the book because the main character had a big obstacle in life and had to work around it.
(Jessica W., Evanston teen)
Scrivener's Moon by Philip Reeve

Scrivener's Moon
Scrivener's Moon
Scrivener's Moon
5/5 stars
An amazing book and a great read for all ages. It's a steampunk book with lots of action.
(Kurt B., Evanston teen)
<< Start < Prev 1 2 3 4 5 6 7 8

9

10 Next > End >>


Page 9 of 80