Readers' Services
The Readers' Services staff can help you find specific materials and can offer reading suggestions. Please phone (847) 448-8620 for assistance. Use Novelist, to find reviews, reading guides, and reading lists for fiction lovers.
A Chorus Line. 2003. (DVD 782.14 Choru)
My tickets for The Book of Mormon aren't until May. I liked the non-musical version of The Producers better than the musical one. So, that leaves this show as my all-time favorite musical to date. Hummable, danceable, and telling a moving story of talented Broadway hopefuls auditioning their hearts out for a part in the chorus of some big, splashy unnamed show, A Chorus Line, the meta-musical of the 80s (the film was released in 1985), is easily re-watchable in my book. If you want to see the true story behind building a musical's chorus line, watch Every Little Step, a documentary following the casting of a 2006 revival of the original.
Now...5---6---7---8---hit it!
(Barbara L., Reader's Services)

Celeste and Jesse Forever. 2013. (DVD 791.4372 Celeste)
This is, so far, the best movie of the year...and it'll be hard to beat. While disguised as a romantic comedy with the power couple of Andy Samberg and Rashida Jones at the helm, this is actually a poignant film about the hardships of a relationship that has run its course. Superbly acted with humorous bits that are actually funny, this movie is amazing. It asks the immortal break-up question, "Why could you change for this other person, but not for me?" I was silently sobbing at the end because this is the first movie I've seen that doesn't gloss over the crappiness that is a broken heart. (Kim - Reader's Services)

Primal Fear. 1996 (DVD 791.4372 Primal)
As a fan of Richard Gere, I don't know how I missed seeing this – but nearly 20 years after its release, the suspense-filled film not only doesn't disappoint, it remains relevant and chilling. And because of its Chicago connection, it's even more intriguing. Based on the novel by William Diehl, and set in Chicago, it stars Gere as "win at all costs" defense attorney Martin Vail and Edward Norton in his terrific screen debut as young altar boy Aaron Stampler, accused of the gruesome murder of a well-loved Chicago archbishop. The stellar cast includes Laura Linney as prosecuting attorney, John Mahoney as the state's attorney, and Alfre Woodard as the judge, with supporting actors Andre Braugher, Maura Tierney and Frances McDormand – all of whom execute the taut script brilliantly, and raise what could have been just another courtroom drama to new heights. (Laura, Reader's Services)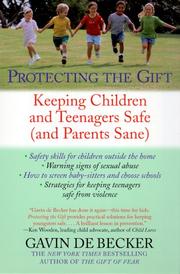 "Schools, churches, your mama's house, cars, THOSE ARE SAFE ZONES." -Ameena Matthews, The Interrupters.
Sandy Hook confirms for us what we know in our heart of hearts: We live in a traumatizing, violent culture. What can parents do to keep their children safe?
Gavin De Becker's Protecting the Gift is a must-read for parents beset with concerns for their child's safety.
De Becker is a world-renown security expert who is unabashed about the violent potential of humans and argues convincingly about the power of unconscious denial to enable that violence. In Protecting the Gift he guides the reader through common sense practices, habits of thinking and means of recognizing potentially dangerous situations that will help parents keep their children safe in an increasingly chaotic culture.
Bradbury, Ray. The Machineries of Joy. 1964. (Science Fiction Bradb.R)
Best known for his science fiction, Ray Bradbury authored a wide range of fantasy stories (e.g. Fahrenheit 451)--and this collection alone demonstrates that range. "The One Who Waits" is nominally set on Mars, but it's less a space travel story than a quick (7-page) distillation of our fears about what might be "out there." Most of the stories touch on mortality, but always cleverly and sometimes comically. Bradbury, born in Waukegan, died last summer after a 70-year career. (Jeff B., Reader's Services)
Page 7 of 115