He's a songwriter, lead guitarist, and founding member of the legendary rock band the Rolling Stones.  He's an outlaw folk hero, a pirate hipster, and arguably the originator of the decadent "rock 'n' roll" lifestyle.  He's Keith Richards, and it should come as no surprise that everyone is clamoring for a copy of his long-awaited memoir Life.  In fact, given Richards' penchant for death-defying excess, Life's most surprising characteristic might be that it's much more than just a gossipy showbiz tell-all.  Sure, the juicy bits are all there: the drug busts, the infamous Altamont show, his rocky relationship with Mick Jagger.  But, as the NY Times writes, Life is also "a high-def, high-velocity portrait of the era when rock 'n' roll came of age…, an eye-opening all-nighter in the studio with a master craftsman…, and the intimate and moving story of one man's long strange trip over the decades."  So, if you want to raise a little vicarious rock 'n' roll hell, know the secrets of the Stones, and glimpse some music magic, look no further than Keith Richards' uncommonly candid new book Life.  If you find, however, that this literary concert is temporarily sold out, please don't be discouraged.  Any of the following critically-acclaimed music memoirs are a great way to pass the time while you wait for Mr. Richards to take the stage.
Chronicles: Volume One by Bob Dylan – One of modern music's most influential and purposely mysterious artists, Dylan finally presents his authentic memories and thoughts in this superb memoir.  Written in a colorful, street-smart style, he skips the years of his greatest records to focus on his youth in Minneapolis and Greenwich Village, his creative slump in the early '70's, and the making of his 1988 comeback album Oh Mercy.  An introspective gem that leaves you eager for the next books in this projected three-volume series.
Chuck Berry: The Autobiography by Chuck Berry – A 1950's rock pioneer and an enormous influence on Keith Richards, Berry recounts his highs and lows with refreshing humor and very little inhibition.  Raised in a strict Baptist household in St. Louis, Berry fell into a rough crowd and was eventually sentenced to 10 years in prison for armed robbery.  His music career began after his parole at age 21, and he quickly "duck walked" his way to superstardom with rock classics like "Johnny B. Goode" and "Maybellene."  This is the absorbing tale of a music legend who overcame racism and continued legal trouble to inspire a generation of musicians.
Decoded by Jay-Z – This eloquent and unconventional book is as multi-dimensional as its author.  Partly a heartfelt homage to hip-hop and partly an honest exploration of wide-ranging social issues, Decoded is above all the candid memoir of a rap music giant.  Beginning with his birth in a Brooklyn housing project, Jay-Z charts his evolution from teen drug dealer to multiple Grammy Award-winning rapper and CEO of Def Jam Recordings.  Filled with eye-catching artwork and the deeper meanings behind Jay-Z's most recognizable lyrics, Decoded is gritty, moving, and a must-read.
I Am Ozzy by Ozzy Osbourne – In this entertaining, warts-in-all autobiography, the U.K. heavy metal legend chronicles his over-the-top career with wit and honesty.  A class clown from a working-class town, Osbourne escaped a life of petty thievery and slaughterhouse employment as the lead singer of Black Sabbath.  A successful solo career followed along with a popular MTV reality show, but as his fame grew so did his tendency toward outlandishly self-destructive behavior.  Here Osbourne discusses it all: the music, the drugs, the infamous rumors of Satanism and biting the heads off bats.  Crisp, unapologetic, and not for the faint of heart.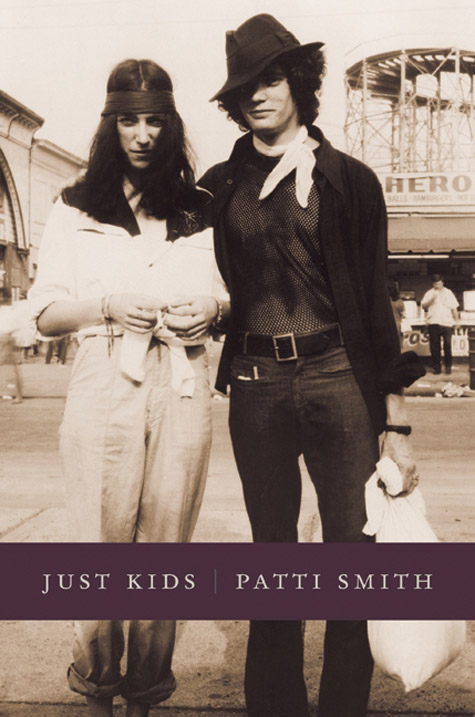 Just Kids by Patti Smith – This moving, beautifully-crafted coming-of-age story won the 2010 National Book Award for Nonfiction.  Singer-songwriter Smith takes us back to late '60's New York City and the legendary Chelsea Hotel just as she begins her extraordinary relationship with photographer Robert Mapplethorpe.  With grace, spirit, and razor-sharp clarity, Smith explores the pair's romantic quest for artistic freedom even in the face of homelessness, loneliness, and tragic loss.  Just Kids is a spellbinding story of 1960's counterculture, unbreakable friendship, and devotion to the artist's calling.  Simply brilliant.
And if you're still feeling the music, rock on with the following:
Clapton: The Autobiography by Eric Clapton
Searching for the Sound: My Life with the Grateful Dead by Phil Lesh
Somebody to Love?: A Rock-and-Roll Memoir by Grace Slick
Russell J.