Loft Blog
Thursday, 02 July 2015 12:57
Foiled is the first in a graphic novel series about a young colorblind girl, Aliera Carstairs, who is a fencer. She goes to high school in New York City, where she doesn't feel like she fits in with any of the cliques that her peers are in. Aliera spends every Saturday playing role-play games with her cousin, Aliera, but one day she eschews their plans to meet up with a boy in her class whom she has been harboring a giant crush on. While she is waiting, Aliera puts on her fencing helmet and sees a world filled with rainbow hues, menacing creatures and spritely fairies. She's convinced that she's going mad and fears she'll embarrass herself in front of her date. How much of this world is real and how much is fiction? Aliera can't quite figure it out. The book ends with a compelling twist and cliffhanger, leaving the reader hungry for the rest of the series. The art in this edition is beautiful and really helps the reader to imagine Aliera's deep inner life. "Foiled" is a fast and fun read for fantasy-lovers and realistic fiction readers alike.
Thursday, 18 June 2015 11:58
Adelina Amouteru is a survivor of blood fever, a deadly disease that swept through her town a decade ago killing half the population. Those who lived were marked--left with missing limbs, odd colored hair or strange scars. But most peculiar of all were the abilities that appeared. The people who survived the blood fever were given the name "malfetto" and shunned from society. Some malfettos harnessed their abilities--powers to control minds, animals, nature, fire--and earned the name, The Young Elites, and used them to help other malfettos regain status in society.
Adelina joins forces with Enzo, a member of the Dagger Society, a secret sect of Young Elites. Enzo was once set to take the throne but when the blood fever killed his father and turned him into a malfetto, his sister cast him out and set her priorities on making sure every malfetto was wiped out.
Together with other members of the Dagger Society, Enzo and Adelina work together to find a way to bring down the Inquisition Axis that is killing malfettos faster than the Dagger Society can replace them and restore Enzo to the throne. But the more Adelina learns about her powers and Enzo, the less she trusts the Dagger Society's mission and herself.
Marie Lu, author of the Legend series, weaves another edge-of-your-seat adventure with The Young Elites. Follow Adelina as she struggles to find out whether the darkness within herself is a tool of good or a necessary evil.
(Ashley, the Loft)
Monday, 01 June 2015 00:00
Gabriel "Chunk" Johnson was used to doing his fat dance as people hurled insults down the hall at him or as he chugged his third Code Red Mountain Dew of the day. However, one day things came to a head. First he realized all his soda machine money wasn't going to his beloved school band, but instead was being funneled towards the cheerleader's new dance squad and then one insult cut a little too deep. Gabe reached his breaking point and needed to make some major changes in not only in life, but at school. No way was the new dance squad was going to take all the funding from the school band. Gabe takes it upon himself to unite all the Geekers in battle against the school administration and the cheerleaders. Fat Boy vs the Cheerleaders is a hilarious feel good read recounting the nine days from when Gabe declared war to his being arrested after an epic series of events and is definitely worth picking up!
(Renee, the Loft)
Wednesday, 20 May 2015 14:53
It's senior year at once of the toughest prep schools on the east coast. Finals, college applications, boys, endless GPA calculations, the pressure only continues to mount as the year grows to a close. Everyone is expected to keep it together until suddenly, no one can.
Colleen and her friends at St. Joan's Academy find themselves on the wrong side of a mysterious illness. The first girl to get sick is the most popular girl in school, Clara Rutherford, who succumbs to an uncontrollable tic in the middle of class. The illness quickly spreads to her closest friends who lose their hair and ability to walk. Rumors spread fast but not as fast as panic. Parents start to pull girls from class, the CDC descends on the school and news reporters hawk the girls for any bit of story they can—or a source to blame.
Only Colleen keeps a level head, having started to read The Crucible outside of class and discovering that her hometown was once Salem Village—home of the Salem Witch Trials. As she researches more about the Salem Witch Trials, she learns that the girls in that Village also suffered from a mysterious illness. Is it a coincidence?
Howe's Conversion weaves a thrilling story that flits back and forth between modern day Danvers, Massuchussets and 17th century Salem Village. She forces us to looks at the lives of teenage girls and the pressures they face…and whether too much of a good thing isn't all that good at all.
(Ashley, the Loft)
Wednesday, 20 May 2015 14:17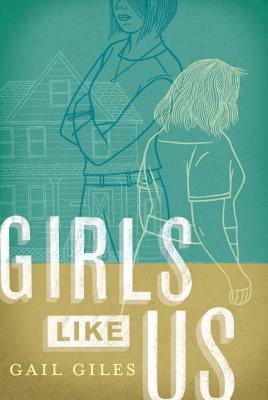 Girls Like Us is a swift and moving read.The story begins immediately after high school graduation of two special education students, Quincy and Biddy. Although the two young women have very different backgrounds, they have been assigned to live as roommates in their government-provided apartment on the property of an elderly woman, Lizbeth. Quincy has long had a chip on her shoulder, and a tendency to go into every situation on the defensive, due to violence in her childhood. Biddy is tentative and afraid, especially of men, and still nursing the loss of her daughter whom she gave up for adoption a couple years prior. The two girls grow into young adults over the course of the summer, as they learn about building a family, taking care of one's self, and learning to use their painful pasts as a place to grow. The author, Gail Giles, does a good job of resisting the tropes of one-dimensional, lovable and not-self-aware mentally handicapped persons. She craft two young women who are flawed, struggling, sometimes misguided and ultimately still so easy to like and relate to. Their benefactor, Lizbeth, is also flawed in her sometimes overly conservative or meddling ways, which I feel does the story a good service The book is written in a series of diary entries, which helps the reader to really see through Quincy and Biddy's point of view. I enjoyed reading this book, and I would recommend it to any student in high school or above. 
(Kayla, The Loft) 
Monday, 04 May 2015 00:00
A suspenseful mystery told from multiple points of view,The Body in The Woods, will keep you engaged until the very end. Alexis, Nick and Ruby have joined Portland County's Search and Rescue Team for different reasons. On their first search none of them are expecting to find anything, but they're dead wrong about that. Instead they stumble across a dead body, which soon becomes an apparent murder scene.

After discovering the body the three teens feel the need to get to the bottom of what happened to the murdered girl especially when they notice some connections to other dead girls who have turned up recently. Soon they find themselves not only in the middle of the investigation and but in the sight of the killer himself.

(Renee, the Loft)

Thursday, 30 April 2015 13:13
Gabi, A Girl in Pieces is an epistolary novel (a novel composed of diary entries), about high school senior, Gabi Hernandez. She journals about her year, writes poetry to express her feelings, and creates a 'zine to show off her point of view after having a very crazy senior year. Although Gabi is highly motivated to get into a great college and subvert the negative stereotypes people may hold about young Latinas, she has to weather her father's drug addiction, her best friend's pregnancy crisis, and her own limiting body image issues to achieve her dreams. Gabi is a great protagonist because although her intentions are good, she frequently makes mistakes. In her quest to have a great senior year, she sometimes makes a wrong turn or hurts the people she loves because of her own misunderstandings or the feeling of being under pressure. As Gabi gets ready to leave the nest, she starts to view her relationships with her family, friends and community in a whole new light. When it's time to go to college, Gabi is still a girl in pieces, but she is no longer afraid to be a person "in process".
- Kayla, The Loft staff
<< Start < Prev 1 2 3 4 5 6 7 8

9

10 Next > End >>


Page 9 of 92